COVID-19 UPDATE: Resources, information, and helpful tips to protect you and your family!
Harrisburg, PA - The Pennsylvania Department of Health today confirmed as of 12:00 a.m., April 16, there were 5,650 additional positive cases of COVID-19, bringing the statewide total to 1,098,502. There are 2,577 individuals hospitalized with COVID-19. Of that...
read more
COVID-19 Virtual Vaccine Town Hall
The COVID 19 vaccine is finally here! Distribution to front line health care workers has begun, and soon it will be available to the general population. To give you more information on the distribution plan and provide an opportunity to have YOUR vaccine questions, I cohosted a virtual townhall with Department of Health Secretary Dr. Rachel Levine on January 13th.
Dr. Levine will answered questions from our audience, along with a panel from PEMA and the Department of Health responsible for overseeing the roll out of the COVID vaccine.
(The following are notes from a town hall conducted by Senator Judy Schwank on January 7 featuring Dr. Debra Powell of Tower Health and Dr. Jeffery Held of Penn State Health St. Joseph. The responses below are summarized answers, not direct quotes.)
What do we know about the new variant of COVID-19?
Dr. Powell: There are two variants that are concerning right now. One is from the United Kingdom and the other from South Africa. We haven't seen either in Berks County yet. 50 to 60 cases have been identified in the US so far in a handful of states. It's more transmissible but not more deadly. We expect the vaccine to work against the new variants as well.
Are the new variant's symptoms the same?
Dr. Held: Yes. The big difference is the spread. This variant increases the amount of virus shed by someone infected. Therefore they're more likely to spread it and at a faster rate.
Does the new variant also spread by air droplets?
Dr. Powell: Yes, it spreads the same way as other variants. Mostly by breathing in these small air droplets. 
Dr. Held: If you think about how a virus evolves, its goal is to reproduce as much as possible. This variant really just makes more virus, so that it's transmitted easier in the droplets. Those droplets have more particles and make it easier to get infected.
Will hand washing, mask-wearing, social distancing and the other prevention tactics we have been using thus far be effective against the new variant?
Dr. Held: Absolutely. We all believe we should continue these safety practices well into this year. Even if you're vaccinated, we don't know enough about the vaccine yet to know if it will reduce the spread, so mask-wearing, avoiding crowds and washing hands will still be important.
Dr. Powell: It's still a respiratory virus, so mask-wearing is still the most important thing you can do.
Will there be a system for understanding when it's appropriate for different groups to get vaccinated?
Dr. Powell: We're following the CDC and Pennsylvania Department of Health (DOH) guidelines, which is a tiered approach. Currently, we're in the 1A category, which is health care workers and residents of long term care facilities. After that, we're going to go to the essential workers and those over 75 (1B). Then tier 1C will be those over 65 and those between 16 and 65 with chronic medical conditions. We're trying to target the most vulnerable first so it won't be open to the general public for probably several weeks to months.
Dr. Held: To vaccinate the entire country is a herculean task, but we're up to it. Everyone who wants the vaccine will have an opportunity to get it in time, it's just a matter of when.
What will we do to make sure the elderly aren't subject to waiting in long lines in the cold to get the vaccine?
Dr. Powell: We prefer a system where people have an appointment and it's controlled. We want to avoid a scenario where people are waiting for hours in really long lines to get vaccinated.
Dr. Held: It's key that we have a process that is controlled. This will allow us to maximize our opportunity to vaccinate people.
My wife and I are both in the 1B category, how do we go about scheduling and finding a location to be vaccinated?
Dr. Powell: We're still working out a system, but my vision is that we would reach out to you and let you know when you will have the opportunity to schedule an appointment. It will likely be at a centralized location rather than at your doctor's office.
Dr. Held: Centralized locations will be necessary early on because of storage. As the supply becomes more robust we could start to expand to other locations, but that will require a lot of collaboration with county, state and national leaders. As the vaccine is produced, patience will be very important.
Some people who've contracted Covid-19 and experienced symptoms report feeling effects long after they've recovered. Are we seeing anything like that in Berks County?
Dr. Powell: We're calling that post-acute Covid-19 syndrome. Studies have shown about 25 to 35 percent of people who contract Covid-19 have prolonged effects on their lungs, heart, or nervous system. I am not aware of a large population in Berks County but it's something that we will continue to monitor. Anyone experiencing prolonged effects should reach out to their primary care provider.
What are some examples of prolonged symptoms people are dealing with?
Dr. Powell: Persistent shortness of breath, fatigue and brain fog are a few examples. Some patients have developed a heart condition called cardiomyopathy.
What should people who're experiencing depression, anxiousness, or other mental health issues as a result of the virus do to get help?
Dr. Powell: We always encourage people not to delay care, so if you are having any medical concerns, even minor ones, you should reach out to their primary care provider and let others around you know how you're feeling. Staying connected to friends and family and letting them know how you feel is very important. Also, we all have to remember to get exercise, spend some time outdoors and try to do something that you love to do every day while we get through this.
Dr. Held: Take advantage of the support structures to have, whether that is phoning a friend or family member or using mental health hotlines. Developing a routine of going outside and enjoy the sunlight for those who're stuck at home all day is one way to help get your mind off the crisis.
I am a 97-year-old WWII Veteran. Will Veterans be eligible to get the vaccine early?
Dr. Held: Patients over the age of 65 are in the high-risk range. There is nothing specific to military service that I'm aware of but based on your age and comorbidities you would be higher up on the tier list.
I'm a dental hygienist in the 1A tier, when can I get the vaccine and where do I go to get more information about scheduling that?
Dr. Held: St. Joseph's Medical Center will be ramping up the process of reaching out to community providers next week. This is a new process and we're learning as we go, but you should expect us to reach out to everyone in the first phase groups, which includes dental hygienists, within the next week or two about how you can get your vaccination.
Dr. Powell: Similarly, Tower Health will be targeting the 1A group very soon, probably beginning early next week.
How are all the hospitals and other health providers in Berks County coordinating their efforts to vaccinate people most efficiently?
Dr. Held: We're doing weekly calls with leadership at Tower Health and St. Joseph's. We haven't yet collaborated directly but that is something we can work on moving forward. 
Dr. Powell: Dr. Held and I have worked with the County Commissioners and emergency first responders to make sure EMS personnel get vaccinated. There has been some level of coordinating but we could probably do more.
What is some advice you have for parents who want to get kids out of the house and doing things safely, especially as it gets colder?
Dr. Powell: Try to spend time outdoors, just make sure you bundle up and stay warm. I would limit interaction with children that you don't know to minimize the risk of picking up the virus. There are other indoor activates like puzzles and arts and crafts that you can try that may also be helpful. 
Dr. Held: I agree, try to take advantage of the outdoors, just make sure you're wearing the right clothing and staying warm.
Can you get Covid-19 multiple times?
Dr. Powell: Yes, you can be infected more than once, but it's unlikely you will contract it again within the first three months of your first infection.
Does the vaccine provide life-long immunity?
Dr. Powell: We do not know yet if the vaccine will be life-long, booster shots may be needed going forward, but I would encourage everyone to get the vaccine once it's available.
How has treatment changed and what're you doing to treat patients who have symptoms serve enough to be hospitalized?
Dr. Powell: It has changed since the beginning. Originally, we were using hydroxychloroquine, but that was proven to be ineffective and can cause heart arrhythmia. We stopped using that in the early months. We have been using steroids and Remdesivir primarily to treat Covid-19. We also use prone positioning, like laying people on their back for part of the day, ventilators and oxygen as treatments. There is still so much we need to learn about this virus and what works and doesn't work.
I am pregnant. Are there treatment options for infants and children and what risks does it pose to them?
Dr. Powell: Children do very well fighting off this virus. They produce a multi-system inflammatory response and most kids have much milder systems and very few side effects.
I have two kids ages 8 and 10, what should I do if they have Covid-19 and are displaying symptoms?
Dr. Powell: Symptoms children show can be treated with normal medicine. So if they have a fever, you would give them fever-reducing medication like Tylenol and Advil. For a cough, a suppressant is appropriate depending on their age group. Basically, take supportive care measures for kids.   
Can pregnant women get the vaccine?
Dr. Powell: Yes. It's recommended that pregnant women get vaccinated because they have a higher chance of having a bad reaction to the virus.
Is breastfeeding safe after you've received the vaccine?
Dr. Powell: Yes, breastfeeding is fine. There is no indication that the vaccine presents a health risk to a breastfed child.
If you have Covid-19 and are treating yourself at home, what should you do?
Dr. Powell: At home, it's supportive care, so again, you're going to treat the fever or cough. Get a lot of rest and try to ride it out. If symptoms get more severe or you begin to feel shortness of breath that is uncomfortable, you should get evaluated at an urgent care center or hospital.
Dr. Held: Keep in touch with your primary care provider. Let them know about your symptoms as you go along. If you will feel a difference don't be afraid to reach out to either your health care provider or go to the emergency room if you're concerned. That's one of the key things that we want to avoid is people not coming when they need treatment out of fear. Never feel like you're bothering your doctor; that's what we're here for.
Dr. Powell: Telehealth visits are also an option, so you don't necessarily need to come into the office if that is a concern.
Is there a place I can register to get contacted to schedule my vaccination?
 Dr. Powell: Tower Health is not registering people right now but I would say the keep an ear out because we will be notifying you soon when those appointments are open. Keep in touch with your primary care provider because they will be keeping track of what is happening in your area.
Dr. Held: We will leverage the primary care network in our community to reach as many people as we can. We will make sure that, as we start to expand vaccinations, that we have ways to reach people in the high-risk categories.
Should I be concerned about having an anaphylactic reaction to the vaccine?
Dr. Powell: I would speak with your allergists or primary care provider to make sure you aren't allergic to any of the vaccine's ingredients. So far, there have been very few anaphylactic reactions. Nationwide, we've vaccine 1.9 million people and there have been 21 total anaphylactic reactions we're aware of.
Is the vaccine free?
Dr. Held: The vaccine itself is free. Depending on where you go to receive the vaccine, there could be an administration fee. At this time Penn St. Joseph's is not charging for administration.
What You Need to Know About COVID-19
The Coronavirus was first discovered during an outbreak in Wuhan, China. The 2019 novel coronavirus (COVID-19) is a new virus that causes respiratory illness in people and can spread from person-to-person. Symptoms of COVID-19 can include: fever, cough, and shortness of breath. Symptoms often do not appear in a person until 2 to 14 days after exposure.
Prepare Yourself and Your Family
The best way to avoid contracting COVID-19 is by practicing vital social distancing procedures. It is recommended to work remotely and severely limit contact with others.
If you think you have come into contact with someone exhibiting COVID-19 symptoms or are exhibiting them yourself, please follow the instructions on the graphic below: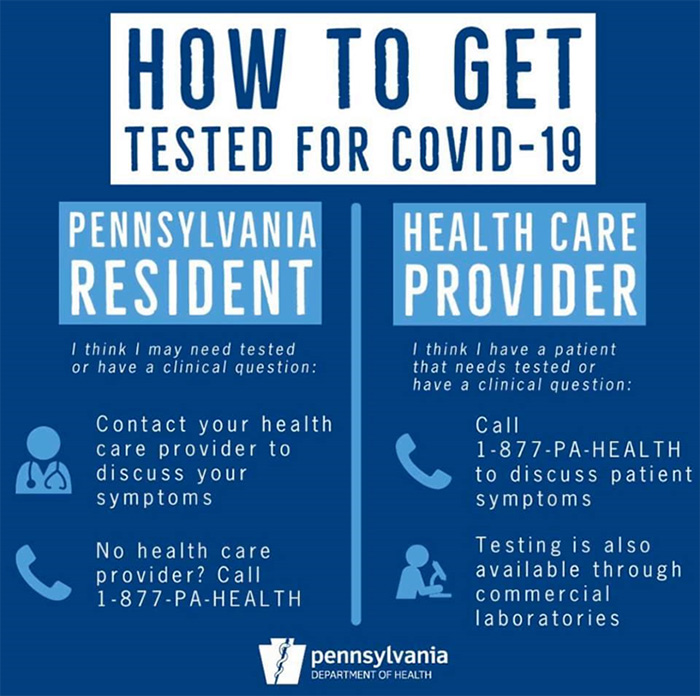 PennDOT/Real ID Updates
Federal REAL ID Enforcement Deadline Postponed to October 2021
The Department of Homeland Security has postponed the enforcement date for REAL ID from October 1, 2020, to October 1, 2021, in response to COVID-19 and the national emergency declaration.
PennDOT closed all driver and photo license centers on March 16 and paused REAL ID issuance in the state out of an abundance of caution and in the interest of public health. Centers will reopen no sooner than April 3. PennDOT also sent a letter to the U.S. Department of Homeland Security, requesting that the agency consider extending the October 1, 2020 REAL ID enforcement deadline.
REAL ID is a federal law that affects how states issue driver's licenses and ID cards if they are going to be acceptable for federal purposes. A federally-acceptable form of identification (whether it's a Pennsylvania REAL ID driver's license or ID card, a valid U.S. Passport/Passport Card, a military ID, etc.) must now be used on and after October 1, 2021, as identification to board a commercial flight or visit a secure federal building that requires a federally acceptable form of identification ID for access.
REAL ID is optional in Pennsylvania. There is no requirement that any resident obtain a REAL ID; PennDOT will continue to offer standard-issue driver's licenses and photo IDs once issuance has resumed.
More information about document requirements, including a printable document checklist, can be found on the Document Check page of the PennDOT Driver and Vehicle Services website.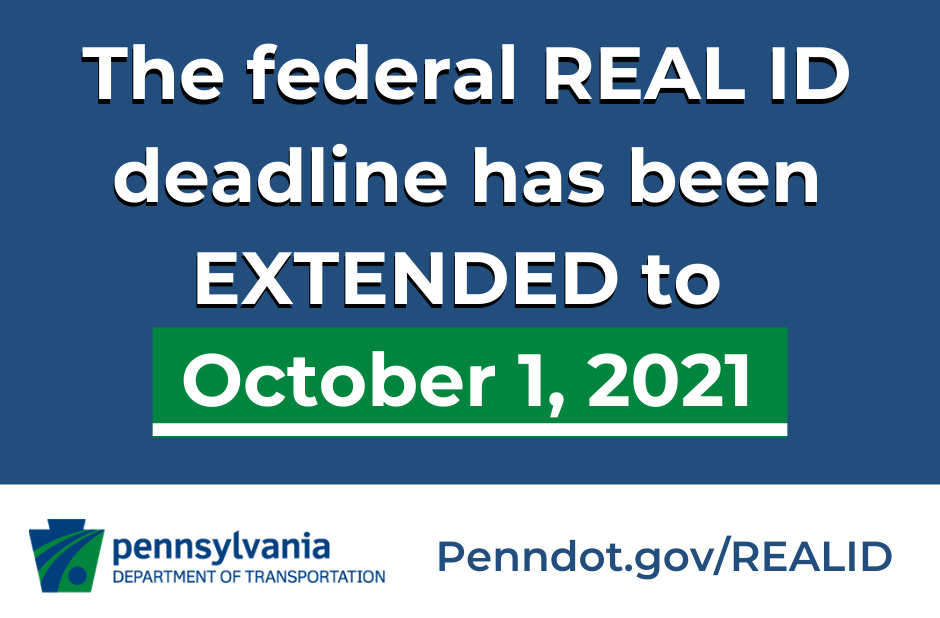 Protect Yourself
Medical Costs
As of March 9, the Governor announced that all major health insurers in Pennsylvania have agreed to cover "medically appropriate" COVID-19 testing and treatment.
The 10 major insurers are:
Oscar
Pennsylvania Health & Wellness
UnitedHealthcare
For anyone with questions about their insurance policy, please contact your insurer or the Pennsylvania State Insurance Department with questions. They can also be reached at (877) 881-6388.
Remote Medical Attention and Care
Health officials are urging people who have symptoms to stay home and contact their doctor remotely rather than opting for an in-person visit. Nearly all major health systems offer some form of virtual visits and assistance. Some insurers do, too. People interested in a specific virtual visit should check to see what illnesses it can be used for. Be sure to reach out to your insurance provider to verify this service is covered with your plan.
Here's an brief overview of virtual visit services offered to local residents:
Capital BlueCross – is offering free medical Virtual Care visits for members who currently have the Virtual Care benefit. The waiving of fees will be effective March 13 through April 15, 2020.
Highmark – is providing many of their members with a virtual clinic visit service. Any fees related to COVID-19 will be waived.
UPMC Pinnacle – is welcoming Online Video Visits for those experience flu like symptoms or just in need of a follow-up appointment. Video visits are available through the MyPinnacleHealth portal for $49.
WellSpan Health – WellSpan Online Urgent Care offers a video visits with Teladoc physicians for patients 3 months and older for their standard fee of $49.
CALLING ALL PSYCHOLOGIST! Things may be picking up for you at this time, so we want to make sure you are covered too. Here are some COVID-19 resources on how to best protect yourself and serve your patients from the Pennsylvania Psychologist Association.
How to Stay Informed
Below is an extensive list of information, statistics, and resources to ensure you stay up-to-date with any changes happening due to COVID-19.
My Office
While our offices are closed, we are working remotely. Please call (610) 929-2151 and leave a message or email schwank@pasenate.com and someone will get back in touch with you as soon as possible.
Pennsylvania Department of Health
A complete list of information and resources available to you by county:
U.S. Centers for Disease Control and Prevention
World Health Organization