Harrisburg — September 22, 2022 — Building on great progress made for maternal health over the last year, the Pennsylvania Women's Health Caucus continues the fight to improve health outcomes for women and families and continues to work to protect reproductive health access for all.
Since the U.S Supreme Court issued its Dobbs v. Jackson Women's Health Organization decision, the Caucus (WHC) has held a series of press conferences, policy hearings, and events on protecting abortion rights and improving maternal health outcomes. WHC members plan to continue to speak out on the importance of access to reproductive health care through to the end of the 2021-2022 legislative session.

Protecting Abortion Providers
On July 11, 52 members of the Pennsylvania House and Senate Democratic Caucuses signed a letter requesting that Gov. Tom Wolf take executive action to protect Pennsylvania abortion providers from out-of-state prosecution.
In a growing number of states, doctors face the possibility of being investigated, charged, and even sentenced to jail time for providing an abortion. Most notably, an Indiana doctor is currently being investigated for providing an abortion to a 10-year-old rape victim from Ohio.
Anti-abortion lawmakers in Missouri have a proposal that would punish any individual who helps a Missouri resident cross state lines to have an abortion and others expected to explore similar options to prevent patients from getting abortions in nearby states.
The letter sent by the WHC requested that Gov. Wolf use executive action to declare that Pennsylvania would not cooperate with any out-of-state investigation seeking to charge a medical professional or abortion patient with a crime while also requesting protections for non-residents who travel to seek care in the Commonwealth.
The following day, Gov. Wolf issued an executive order and fulfilled our member's requests. The WHC applauded Gov. Wolf's decision and thanked him for his commitment to upholding access to reproductive health care.
Likewise, Pennsylvania Attorney General Josh Shapiro stated in July that, "If any attorney general, if any law enforcement official in any other state tries to mess with a Pennsylvania provider, they will have to go through us. We will protect them." Gov. Wolf and Attorney General Shapiro's actions send a clear message that Pennsylvania will not allow its providers to be intimidated.
On July 29, WHC co-chairs Sen. Judy Schwank, Sen. Amanda Cappelletti and Rep. Mary Jo Daley joined Gov. Wolf and Attorney General Shapiro at The Women's Center of Montgomery County to discuss the executive order. They were also joined by the Center's Executive Director Maria Macaluso and Jefferson Health-Abington Hospital physician Dr. Karen Feisullin.
The event highlighted the link between unexpected pregnancy and domestic violence. Domestic violence shelters in states with abortion bans have already seen an increase in calls since the Dobbs ruling. The speakers also talked about the need to protect our medical providers and ensure they have the freedom to act decisively and without fear of prosecution while rendering care.
Post-Roe PA Policy Hearings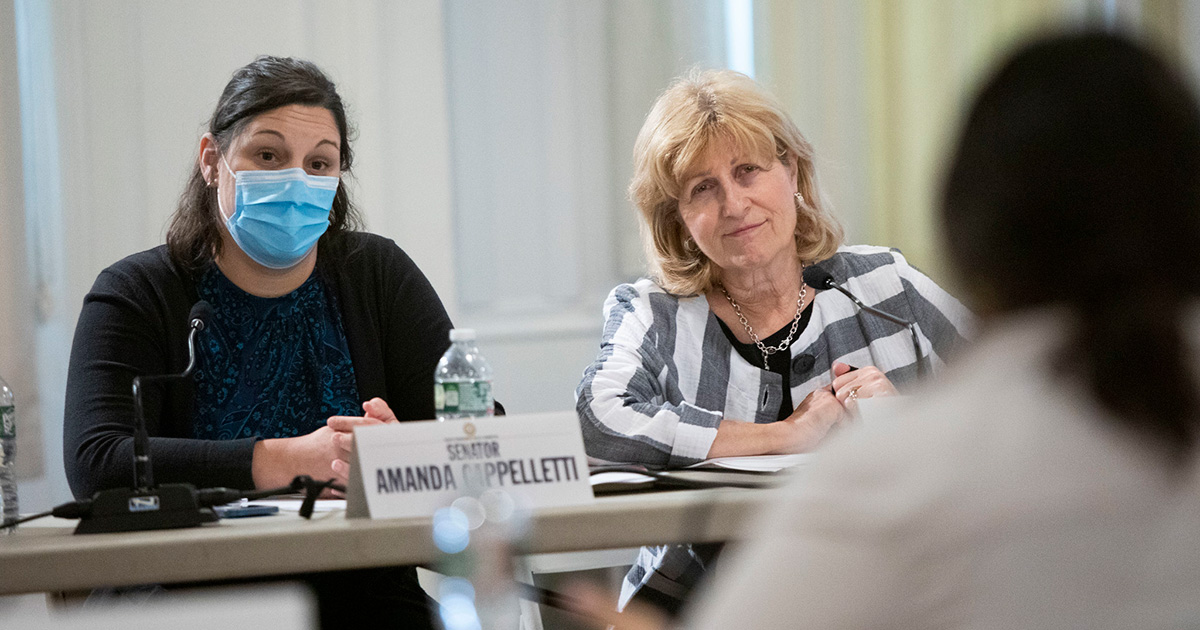 The WHC hosted three House and Senate joint Policy Committee hearings on the abortion landscape in Pennsylvania following the Dobbs decision. The first hearing took place in Harrisburg and featured testimony from Acting Secretary of Health and Physician General Dr. Denise Johnson.
During her testimony and while answering questions, Johnson reiterated that abortion remains safe and legal in the Commonwealth of Pennsylvania. Johnson said the Pennsylvania Department of Health sent letters to abortion providers in Pennsylvania clarifying this. She also stressed that any further restrictions on abortion and other forms of reproductive health care would result in the loss of life.
"Bodily autonomy and privacy should be a human right," Johnson said. "The consequences of forced pregnancy can be dangerous to maternal health and may increase chances of maternal morbidity. If abortion or emergency contraceptive services were to become further limited in Pennsylvania, it would likely exacerbate this crisis."
The second post-Roe PA hearing took place in Philadelphia and featured statewide and regional reproductive health care advocates and physicians. The hearing discussed the importance of protecting and expanding access to reproductive health care in Pennsylvania.
Dr. Aasta Mehta, a Medical Officer of Women's Health for the Philadelphia Health Department, testified that Pennsylvania is in the midst of a maternal mortality crisis, one that's disproportionately impacting Black and low-income people. Dr. Mehta said restricting abortion access will only exacerbate that crisis.
"Evidence shows that access to reproductive health services, including abortion, improves health outcomes and supports economic mobility and success. Being denied access to abortion poor health, financial, and family outcomes for women and birthing people," said Mehta.
The third hearing took place in Pittsburgh. Neighboring state Ohio has implemented a six-week abortion ban. As a result, abortion providers in western Pennsylvania are seeing an influx of patients from outside of the commonwealth.
President and CEO of Planned Parenthood of Western Pennsylvania Sydney Etheridge testified that the increase in patients was predictable and that abortion providers in the area are ready to meet the challenge.
"Despite the strain, this has put on our centers–not to mention the challenges travel and other barriers can put on patients–our staff continues to do all they can to ensure that patients get the care they need when they need it," said Etheridge. "While abortion is still legal in Pennsylvania at this time, it is critically important that abortion remain accessible not just for Pennsylvanians, but for those coming to our state in search of compassionate care."
Vice President Harris Visits PA Lawmakers in Philadelphia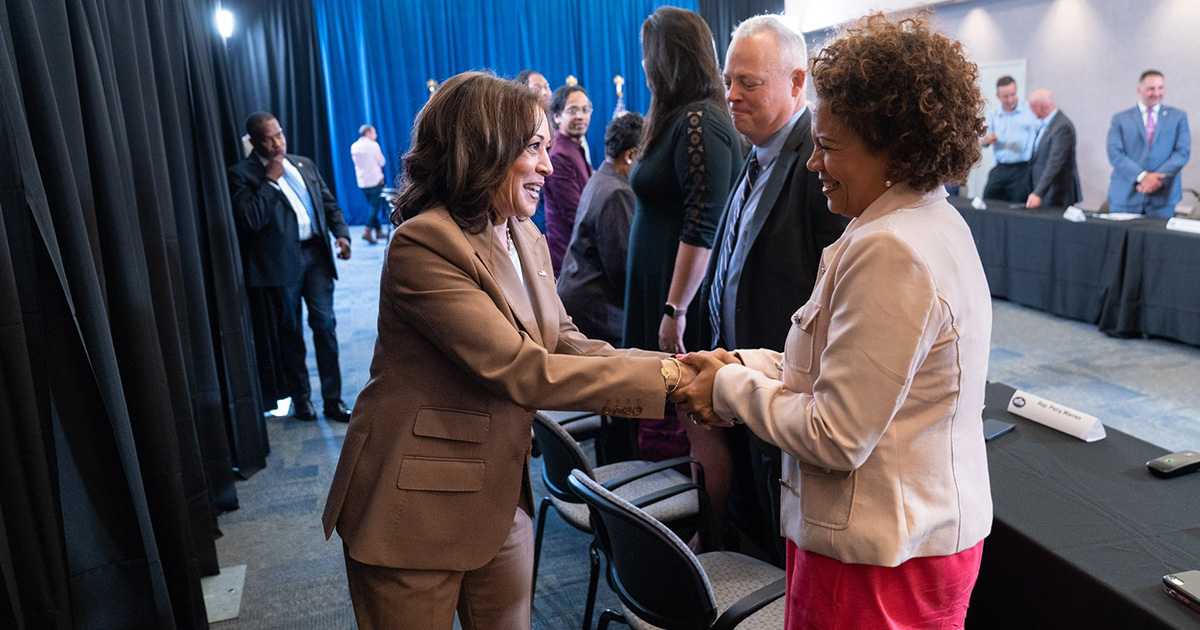 On July 17, the WHC hosted Vice President Harris who traveled to Philadelphia to meet with over three dozen House and Senate Democrats to talk about the need to fight to protect access to abortion. The meeting was one of a series of events Harris conducted in states across the country as the fight over abortion rights shifts to state legislatures after the Dobbs decision.
Among the Pennsylvania lawmakers that attended the event were WHC co-chairs Rep. Morgan Cephas, Rep. Mary Jo Daley, and House Democratic Leader Joanna McClinton.
"We are not asking anyone to compromise their beliefs or abandon their faith," said Harris. "We are simply saying the government should not be in the position nor should the government have the power to replace its beliefs for those of the woman. That's what we are saying. We are talking about a situation in our nation right now where states and so-called leaders are passing laws that would criminalize medical health professionals, health care providers. We are talking about several states in our nation who will not allow an exception for rape or incest."
Harris also spoke about the national effort to codify abortion access into law.
Kansas Voters Defeat Constitutional Amendment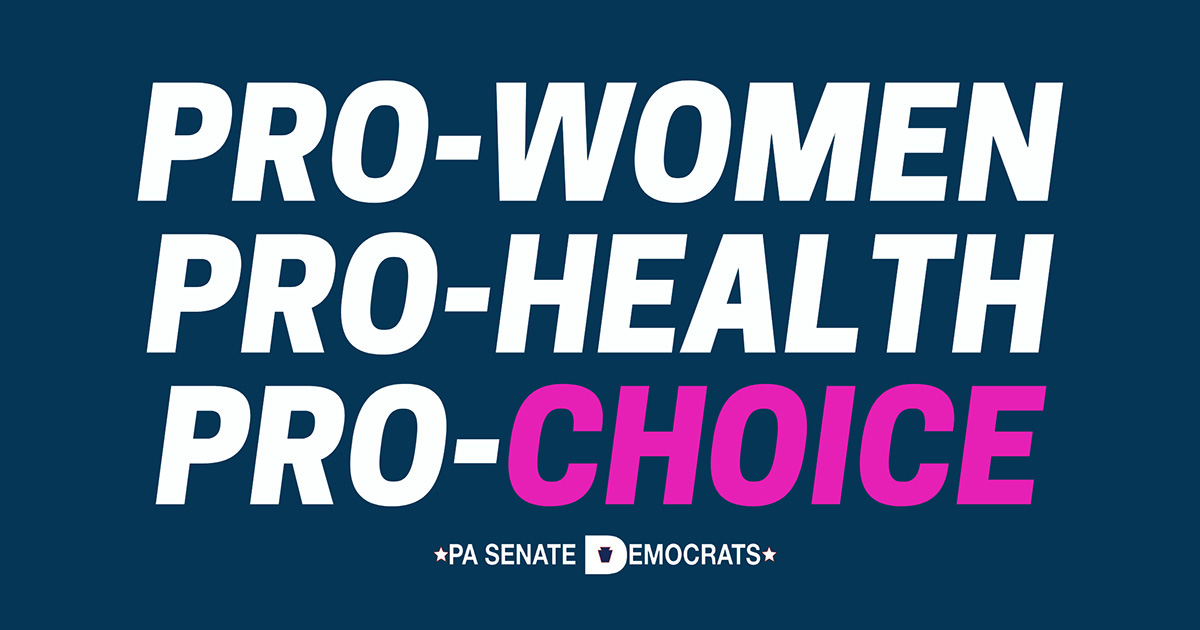 On August 2, the WHC co-chairs issued a statement applauding the defeat of a Kansas constitutional amendment that would have paved the way for the state's Republican-controlled legislature to pass an abortion ban.
Republicans in the Pennsylvania House and Senate are trying a similar maneuver. In July, SB 106, a package of constitutional amendments, passed both chambers. The package contained an amendment that would remove the right to an abortion from the Pennsylvania constitution. If the package of constitutional amendments passes again next session, the amendment could be on the ballot as soon as the 2023 primary election.
In the statement, the WHC co-chairs said, "Let this be a warning to those who voted in the dead of night to move forward a 'No Right to Abortion' constitutional amendment in Pennsylvania: you can try to do an end-around a pro-choice governor, but you cannot do an end-around the voters."
Wolf Administration, WHC Members Affirm the Importance of Reproductive Health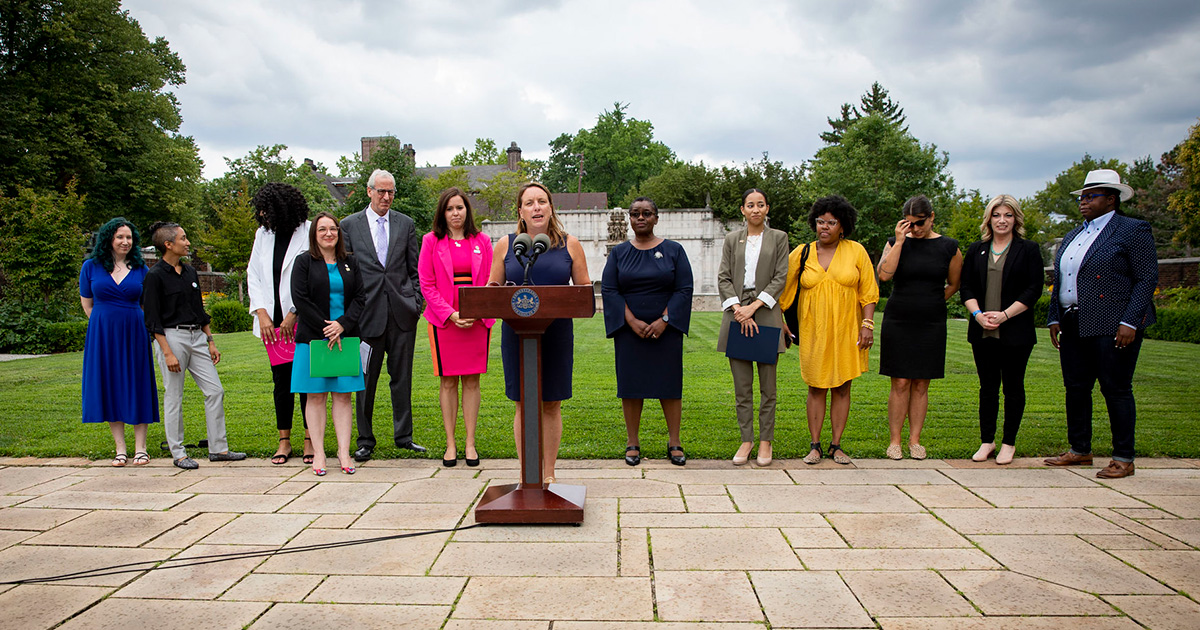 The Pennsylvania Department of Human Services held a series of events throughout the season with WHC members and advocacy groups to affirm the need for all Pennsylvanians to feel safe accessing all forms of reproductive health care.
The first event, which was held in Pittsburgh, was attended by DHS Sec. Meg Snead, representatives from the City of Pittsburgh, Planned Parenthood, and Healthy Start Pittsburgh among others. Sen. Lindsey Williams, Sen. Katie Muth, Rep. Dan Frankel, Rep. Emily Kinkead, and Rep. Sara Innamorato represented the WHC at the event.
"With the overturning of Roe v. Wade, we know that many people are confused and worried about getting the reproductive health care they need and deserve to keep themselves and their families healthy," said Snead. "We are here to tell all Pennsylvanians: whatever stage you are at in your life, there is safe, affordable reproductive, perinatal, and postpartum health care available."
Snead joined WHC members for a similar DHS press events in Philadelphia and Harrisburg and have another scheduled in the coming days. Rep. Cephas, Rep. Daley, and Rep. Elizabeth Fiedler attended the Philadelphia event at City Hall on behalf of the WHC.
Moving Forward

As both chambers returned to session the second week in September, WHC members are exploring and introducing legislative opportunities to protect and expand access to abortion and reproductive health care and members continue to hold events highlighting the importance of having access to care across Pennsylvania.
On September 20, WHC members joined several advocacy groups on the steps of the Capitol for a reproductive rights rally. Sen. Judy Schwank and Rep. Dan Frankel spoke on behalf of the WHC. The lawmakers made it clear to the crowd that the WHC will not stop fighting for the rights of Pennsylvanians.
The members plan to kick-off their #ActionForAccess campaign, a call to action for legislators, decision-makers, advocates, providers, and residents across the commonwealth. More to come on that soon.
###