Unemployment Compensation Fraud Reporting Update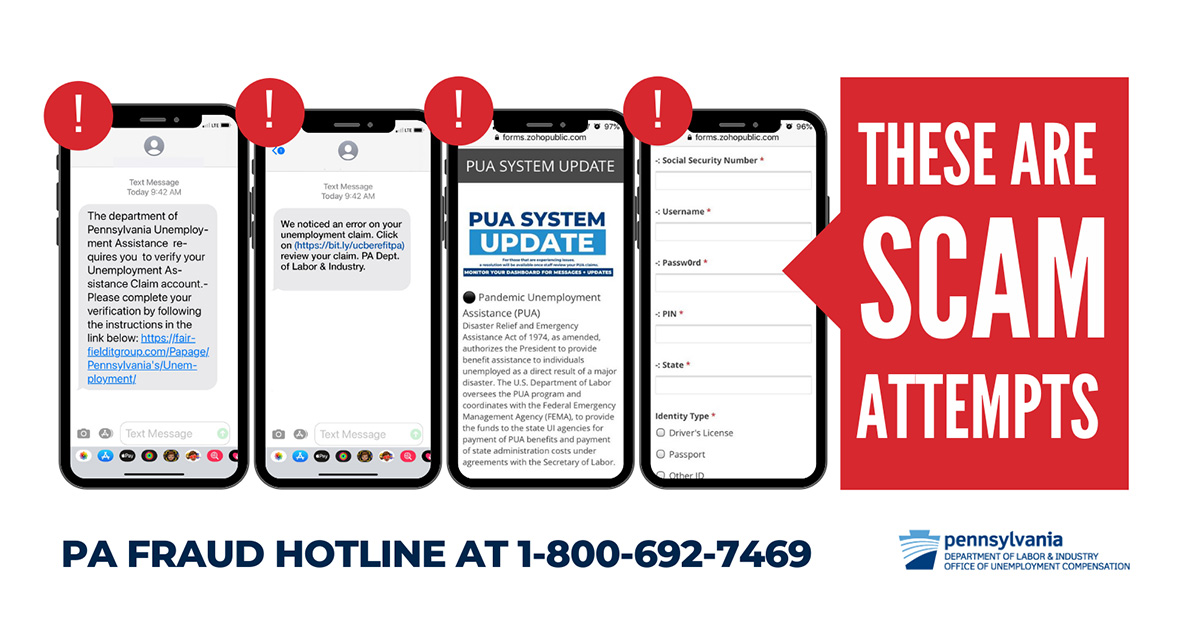 Recently, Pennsylvania has seen a spike in fraudulent activity, primarily related to the regular Unemployment Compensation (UC) program. The Pennsylvania Department of Labor and Industry (L&I) has updated its fraud resource pages, including How to Report Fraud and Fraud & Identity Theft FAQs, with new information on fraudulent activity. Consulting those resources is the quickest way to address general questions about fraud.
All victims of identity theft are encouraged (whether it's regular UC or PUA) to report it directly to L&I, as well as to your local police department and the Federal Trade Commission. If you have become aware you have been a victim of UC/PUA-related identity theft, please use the following checklist.
What to do when someone files for unemployment benefits using your identity
Call the PA Fraud Hotline at 800-692-7469
File a report with police:
Contact police in the municipality you resided in at the time the unemployment fraud occurred/benefits in question were paid. A copy of the filed police report must also be provided to the Office of Unemployment Compensation.

Start a recovery plan with the Federal Trade Commission by visiting www.identitytheft.gov.
To be clear, these steps should be taken for any instance of identity theft occurring in any of the unemployment programs. Every instance of UC fraud and PUA fraud involves some level of identity theft, so every instance should be reported as described above.
In all cases, it is critical that the claimant report fraud directly to L&I.
Direct Deposit-Related Fraudulent Activity
Increasingly, fraudsters are hijacking valid regular UC claims by submitting forms for fraudulent direct deposit accounts to divert benefits from rightful beneficiaries. Since direct deposit has not been an available payment method for PUA recipients since last May, only regular UC recipients are being directly affected by this form of fraud.
For anyone on regular UC or Pandemic Extended Unemployment Compensation (PEUC), Treasury strongly recommends that you check your accounts daily for suspicious activity. Particular attention should be paid to any changes in direct deposit information.