How to Identify and Destroy Spotted Lanternfly Egg Masses
How to Apply Systemic Pesticides as a Bark Spray

How to Make Your
Own Tree Bands
How to Identify ailanthus altissima, the Tree of Heaven
How to Band Trees for Voluntary Spotted Lanternfly Tree Banding Program
How to Apply Systemic Pesticides as a Soil Drench
How to Eliminate or Control Spotted Lanternfly Adults:

If you find Spotted Lanternflies in a municipality where they are known to exist, you should try to kill them.
The most effective way to eliminate these insects is to disrupt their favorite food and hang‐out. In late summer and fall, Spotted Lanternflies prefer feeding on Ailanthus altissima, commonly known as the "Tree of Heaven." They can be found feeding on other plants and trees, but Ailanthus altissima is their favorite host. Here's an excellent resource to help you identify the tree: goo.gl/cNPQkS
If you have Ailanthus on your property: please consider reducing the number of Ailanthus trees, then treat remaining "trap trees" with insecticides. This is a longer‐lasting solution than simply spraying insects you see.
If you want to kill Spotted Lanternflies without controlling Ailanthus: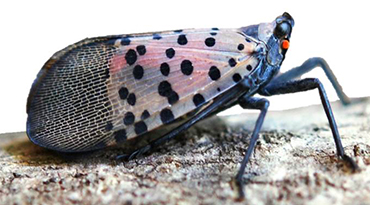 When there are only a few insects, you can kill spotted lanternflies by swatting or crushing them. For large populations, two kinds of insecticides are widely available that will kill Spotted Lanternfly adults.
Contact insecticides kill spotted lanternflies when the chemical contacts the insect directly. Systemic insecticides are absorbed by the tree and kill insects feeding on it. ALL insecticides must be used as directed on the label. Take the time to read the label carefully and follow the directions. This increases your safety, the safety of the environment, and the effectiveness of the insecticide.
Pennsylvania law requires that pesticide labels list the site where a pesticide (such as an insecticide) may be used. In Pennsylvania, insecticide labels do not have to specifically list the targeted insect. There are insecticides labeled for use on ornamental trees and around buildings. These products are legal to use on the sites listed in order to control Spotted Lanternflies in Pennsylvania.
Penn State Extension is currently testing to determine which insecticides are most effective in controlling adult spotted lanternflies. Preliminary results show insecticides with the active ingredients dinotefuran, imidacloprid, carbaryl, and bifenthrin are effective at controlling the spotted lanternfly. Neem oil and insecticidal soap provided some control, but results varied, and insects sometimes took several days to die.
Examples listed below are some of the available insecticide products containing the most effective ingredients studied (dinotefuran, imidacloprid, carbaryl, and bifenthrin).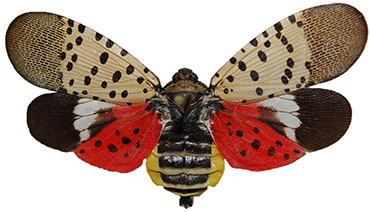 EXAMPLES OF PRODUCTS CONTAINING INSECTICIDES LABELED FOR USE IN LANDSCAPES AND GARDENS:
Contact insecticides (bifenthrin, carbaryl) ‐ apply when adult insects are present:
AVALON INSECTICIDE
BIFEN 7.9F SELECT
FERTI‐LOME BROAD SPECTRUM INSECTICIDE
FLEE READY‐TO‐USE YARD SPRAY
HOME MD MAXIMUM DEFENSE YARD CONCENTRATE
LESCO CROSSCHECK PLUS MULTI INSECTICIDE
MAXXTHOR SG
ORTHO MAX PRO
SEVIN
TALSTAR SELECT INSECTICIDE
UP‐STAR GOLD INSECTICIDE
Systemic insecticides (imidacloprid, dinotefuran) – most effective when applied in spring and summer,
before adults build up:
BAYER ADVANCED 12 MONTH TREE & SHRUB INSECT CONTROL
BONIDE ANNUAL TREE AND SHRUB INSECT CONTROL WITH SYSTEMAXX
COMPARE‐N‐SAVE SYSTEMIC TREE & SHRUB INSECT DRENCH
GREEN LIGHT TREE & SHRUB INSECT CONTROL WITH SAFARI
MONTEREY ONCE A YEAR INSECT CONTROL II
ORTHO BUG B GON YEAR‐LONG TREE & SHRUB INSECT CONTROL CONCENTRATE
SPECTRACIDE TREE & SHRUB INSECT CONTROL
TRANSTECT 70 WSP INSECTICIDE
VENOM INSECTICIDE
ZYLAM LIQUID SYSTEMIC INSECTICIDE
EXAMPLES OF PRODUCTS CONTAINING INSECTICIDES FOR USE ON VEGETABLES, FRUIT, BERRIES AND GRAPES:
WHEN USING INSECTICIDES ON EDIBLE CROPS: It is especially important to follow directions for chemical application and timing from harvest as stated on the label.
AGWAY COMPLETE FRUIT TREE SPRAY
BONIDE COMPLETE FRUIT TREE SPRAY LIQUID
BONIDE EIGHT INSECT CONTROL FLOWER &VEGETABLE ABOVE AND BELOW SOIL INSECT GRANULES
HI‐YIELD VEGETABLE & ORNAMENTAL INSECT CONTROL GRANULES
SEVIN
VEGETABLE GARDEN SOIL INSECTICIDE
The products listed above are registered for use in specific settings. Read the pesticide label and follow the directions, including application rates, methods, and appropriate protective clothing and equipment.
THE LIST IS PROVIDED BASED ON CURRENT PRODUCT REGISTRATIONS. THIS IS NOT AN ENDORSEMENT OF ANY PRODUCT OR PESTICIDE PRODUCER. THIS IS NOT A COMPLETE LIST OF POSSIBLE LABELED PRODUCTS OR BRANDS.
THESE INSECTICIDES HAVE NOT ALL BEEN TESTED AGAINST SPOTTED LANTERNFLY SPECIFICALLY, AND ADDITIONAL EXPERIMENTS ARE NEEDED TO DETERMINE THEIR EFFICACY.
Soon, lanternfly females will lay eggs. Lanternflies are great at hiding eggs. You can find masses on trees, cars, lawn chairs, underneath picnic tables or other obscure places. Those egg masses can survive the winter, so if you see a mass, and are able, try to scrape it off. Use anything to do it, like an old credit card or even a stick. PDA says to be sure to remove all seed-like black or brown eggs from underneath its protective wax coating. Then double bag and trash the eggs, or submerge them in hand sanitizer or alcohol.
Here's an example of egg masses: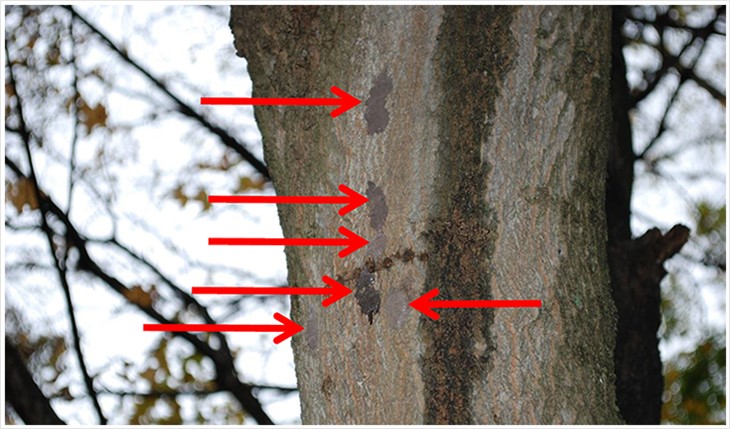 Reporting Lanternfly Outside a Quarantine Area
Remember, if you find a spotted lanternfly outside of the quarantine area, leave a message at 1-866-253-7189 or e-mail badbug@pa.gov. Try capture the lanternfly in a vial of alcohol (to kill and preserve) or attach a photo.
Spotted Lanternfly Meeting
October 18, 2017