Farmer Breakfast Meeting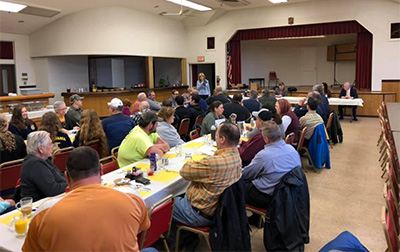 Just yesterday I held a Farmers Breakfast Meeting on animal health issues. State Veterinarian Dr. Kevin Brightbill was our featured speaker and focused much of his discussion on the importance of biosecurity on farms. Dr. Brightbill gave an excellent presentation and helped us to understand how critical it is to safeguard our food system starting right with how animals are raised. Food security is closely tied to national security.
This article has a refresher on biosecurity measures at they relate to poultry animals but could also be useful for other animal farmers. You can also read a Reading Eagle synopsis of the meeting here.

Benefits and Rights for Older Pennsylvanians
The Pennsylvania Department of Aging just released the 2020 Benefits and Rights for Older Pennsylvanians, the commonwealth's premier guide for information and resources serving older adults on the state and local levels.
Some of the topics included in the book are:
Housing
Insurance
Legal Services
Long-Term Care Ombudsman Program
Protective Services
This year's book also features a message regarding the upcoming 2020 Census and the importance for older adults to make sure they are counted. Download the book here, or you can call my office at 610-929-2151 for a copy.  

Coffee with Constituents
I'm holding my second Coffee with Constituents event on Tuesday, March 10, at 9 a.m. at Clair's Family Restaurant in Morgantown. Join me for doughnuts and questions!

Being Social

It's a privilege to be your state senator, so it is important to me to be in touch with you.
I really like face-to-face meetings but understand that in this busy world, sometimes that isn't possible. Feel free to call my office to ask questions or make suggestions. Also, you may connect with me through my pages on Facebook and Twitter. Please follow me for regular updates and comments about what's happening in the district and in Harrisburg.