Don't Forget About Coffee and Doughnuts Tomorrow
Your opinions are important to me, which is why I'm inviting any constituent of mine to the Shillington Farmers Market at 10 S Summit Ave. in Shillington at 9 a.m. on Thursday, February 13.
Hope to see you there!

Budget Hearings Start Next Week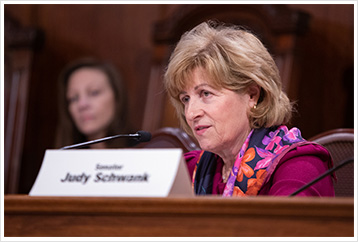 I believe the state legislature's most important task is to pass a reasonable budget on time, and it's a job I take very seriously. In that vein, budget hearings start next week and, as Minority Vice-Chair of the Senate Appropriations Committee, I plan to attend as many as I can. It's an intensive process that lasts about three weeks.
Budget Hearings are when the House and Senate appropriation committees hear from agencies making their cases for funding. We get a chance to ask department representatives questions and request additional information or clarifications.
After the hearings, a General Appropriation Bill is introduced in the General Assembly for discussion and debate. If both the State House and Senate pass the same General Appropriation Bill by a simple majority, the bill is sent to the Governor by its deadline of June 30.
For more information about Pennsylvania's budget process, visit the Office of the Budget's website: www.budget.pa.gov.

What Act 77 Means to You
Last year Gov. Wolf signed Act 77 of 2019 into law. It makes significant improvements to Pennsylvania's elections and contained language from legislation I had sponsored. Most voters can now vote by mail-in ballot, and voters will have more time to register to vote and to return their absentee or mail-in ballots. The Act also provides $90 million in funding for new voting systems.
Learn about updates to the voting process at https://www.votespa.com/About-Elections/Pages/Voting-Reforms.aspx.

Being Social

It's a privilege to be your state senator, so it is important to me to be in touch with you.
I really like face-to-face meetings but understand that in this busy world, sometimes that isn't possible. Feel free to call my office to ask questions or make suggestions. Also, you may connect with me through my pages on Facebook and Twitter. Please follow me for regular updates and comments about what's happening in the district and in Harrisburg.