Second Aging Parent Conference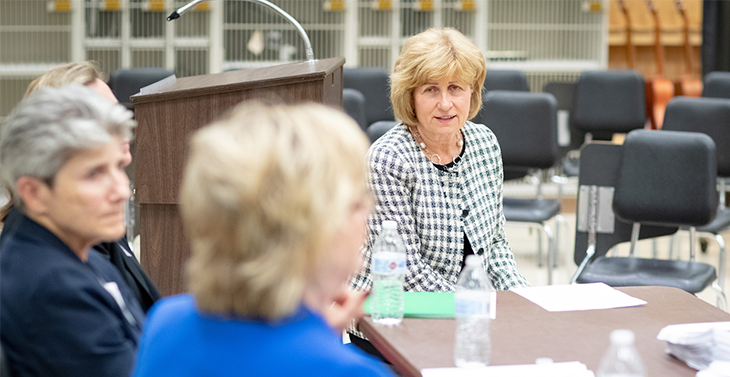 I hosted a free Aging Parent Conference on Sept. 5 at Muhlenberg Middle School. The conference was aimed to serve adults preparing to care for their elderly parents, those who are already caring for their elderly parents, and adults planning for their own golden years.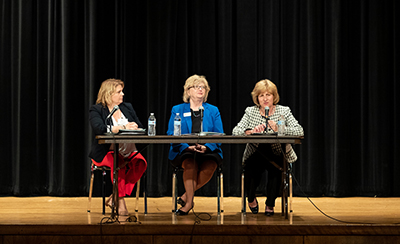 According to the Pennsylvania Department of Aging, more than 55% of households in the state have someone age 60 or older living in them. By 2030, the department expects the state's senior population to reach 4 million people, a 38% increase from 2016's 2.9 million seniors.
In a 2018 report, the U.S. Census Bureau projected that older adults will outnumber children by 2035, which will be the first time in U.S. history.
About 100 people gathered at Muhlenberg Middle School for the Aging Parent Conference, where they had their choice of 15 sessions that covered the gamut of aging issues.
Nearly 20 local and state experts spoke about issues like estate planning, medicine management, applying for state aid, Medicare and Medicaid benefits and other topics related to aging.
Jennifer Wegman of Oley Township presented a session called "Ten Tips to Minimize Caregiver Stress."
As a young adult, Wegman cared for her ailing father until he succumbed to kidney cancer. The experience inspired her to change careers. She left the law field and is now pursuing her Master's in clinical counseling at Alvernia University. She's taking every opportunity she can to help others with what she's learning.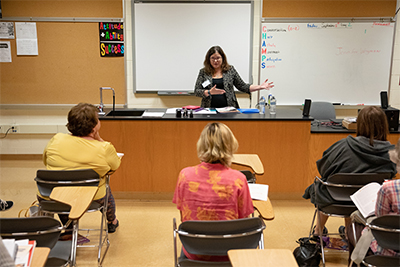 "I just think it's so important, whether you're an aging parent or a child, that you have that conversation," she said. "Your child or caregiver may be able to make decision that aren't what you wish. If you make your wishes clear, that stress and burden isn't so great."
During her session, she stressed the importance of being organized – in terms of finance, health and future wishes. She also stressed self-care.
"Set up a support system," she said. "Find out what community or charitable resources are available to help you in caring for your loved one. Take the time to talk to other family members who will be helping with your loved one's care and designate responsibilities."
I had a few moments to speak to the crowd during the conference. I used my time to encourage those approaching the end of their careers to not simply retire from a job, but to retire to meaningful activities, hobbies and volunteer work that maintain a sense of purpose.
As many others did, I also recommended adult children to broach conversations with their parents in a compassionate but willful manner.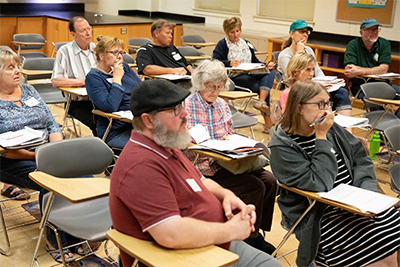 I've lived this experience with my own family. Everybody needs to plan for their future. It's far too important to let fate determine.
During Dementia Live, an interactive session hosted by Berks Encore, attendees tried to complete seemingly simple tasks like counting change, procuring pills and feeding a cat -- while wearing cumbersome gloves, glasses simulating vision loss, and headphones playing distracting ambient noise.
"I have more perspective now on how difficult the little tasks can be," said Kyle Zuber of Ruscombmanor Township.
Zuber's mother, JoAnn, was diagnosed two years ago with dementia. His wife, Emily, calls JoAnn each morning to remind her to take her pills. Emily Zuber is planning to care for her mother-in-law full-time in the near future. 
It's difficult, but they are doing what they can to help her, Zuber said.
If you're interested in some of the information covered, stop by my office for a copy of our program book, which features articles by our speakers.

Being Social

It's a privilege to be your state senator, so it is important to me to be in touch with you.
I really like face-to-face meetings but understand that in this busy world, sometimes that isn't possible. Feel free to call my office to ask questions or make suggestions. Also, you may connect with me through my pages on Facebook and Twitter. Please follow me for regular updates and comments about what's happening in the district and in Harrisburg.