Second Aging Parent Conference Coming in September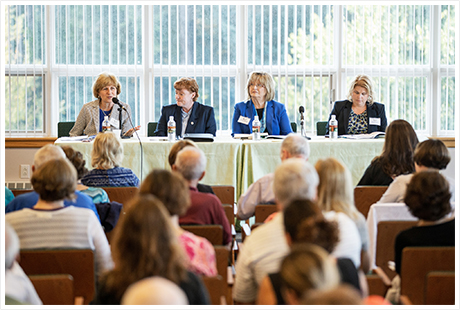 Last September, my office held an Aging Parent Conference. I had lost my mother a few months earlier, and her passing is part of what inspired me to put on the event. After reflecting on my own experiences, and listening to similar stories from friends and constituents, I realized there was a need for this kind of information.
We are lucky in Berks County to have several organizations who host seminars and fairs dedicated to aging and the resources available to us. I've always been impressed by their efforts, and I wanted to provide an experience that would complement their services. I wanted an event that would cover the full gamut of planning for the future and provide guests the opportunity to ask questions and mold each seminar to their needs without having to navigate a sales pitch.
The Reading Eagle wrote an article about the conference. You can read it here.
My office will hold another Aging Parent Conference on Thursday, September 5, at Muhlenberg Middle School, 801 East Bellevue Avenue.
I hope this event can be a catalyst for its attendees. I hope they understand that now is the time to plan for your loved ones' futures – and it's also time to plan for your own.
As a Baby Boomer myself, I am already considering what I want. I do not want my family to be left guessing what that looks like, and I imagine neither do you. You've been in charge of your life for so long, why abdicate that responsibility to someone else?
So, what kind of information are interested in? What would you hope would be covered during our conference?
Please send your suggestions to Jamie Klein in my office at Jamie.klein@pasenate.com.

Being Social

It's a privilege to be your state senator, so it is important to me to be in touch with you.
I really like face-to-face meetings but understand that in this busy world, sometimes that isn't possible. Feel free to call my office to ask questions or make suggestions. Also, you may connect with me through my pages on Facebook and Twitter. Please follow me for regular updates and comments about what's happening in the district and in Harrisburg.