Aging Parent Conference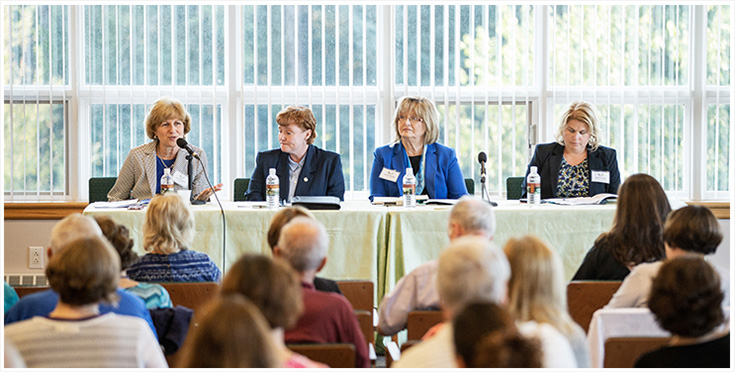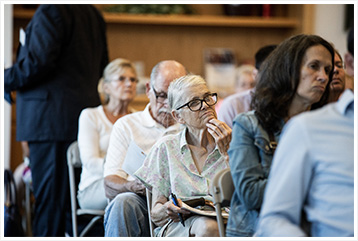 Last week, my office held an Aging Parent Conference at the McGlinn Conference Center adjacent to Alvernia University. We were amazed by how successful it was. It demonstrates how people in Berks County want and need information about aging issues.  
The Reading Eagle attended the conference, as did WFMZ. You can read and watch their coverage here: Reading Eagle » WFMZ »

The first session of the night featured Pennsylvania Department of Aging Secretary Teresa Osborne, Berks County Area Agency on Aging's Deputy Director Jessica Jones, Director of Berks Encore LuAnn Oatman and myself. We discussed what resources are available to help anyone who is looking to care for their parents, or other family members or friends.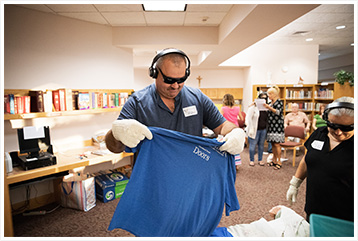 One of the most popular sessions was Dementia Live!, which was hosted by two Berks Encore employees. They helped their attendees understand what someone with dementia might feel like while performing everyday tasks.
They did this by having guests put on thick gloves, dark glasses and a pair of headphones playing a loud soundtrack. They then had these brave volunteers perform a series of simple tasks. Many quickly found out that they either immediately forgot what the tasks were or had trouble seeing them through.
We are already planning to host this conference again and are considering the ways we can make it better. Stay tuned!

Berks Community Health Center Grant
Yesterday, Gov. Tom Wolf approved $500,000 in grant funds from Pennsylvania's Redevelopment Assistance Capital Program (RACP) for The Berks Community Health Center to open a new location in Northeast Reading.
The Health Center will be located in a portion of the former Giant Food Store at 1100 Rockland Street in Reading and will offer a multitude of services, including medical, dental, pediatric, podiatry, vision, behavioral health and more.
This is such an important investment in the health and well-being of the residents of Reading and Berks County. Not only will we have more access to quality healthcare, but the center will also bring 85 full-time jobs to the county. 

REAL ID
I know many of you are worried about REAL ID, and I want you to know that my office is following this issue closely. We will update you with new information as soon as we have it.

Being Social

It's a privilege to be your state senator, so it is important to me to be in touch with you.
I really like face-to-face meetings but understand that in this busy world, sometimes that isn't possible. Feel free to call my office to ask questions or make suggestions. Also, you may connect with me through my pages on Facebook and Twitter. Please follow me for regular updates and comments about what's happening in the district and in Harrisburg.