Helping our Dairy Industry
Last week I introduced a resolution that would call for the Legislative Budget and Finance Committee to study the way other states help their dairy farmers. As many of you know, dairy farmers across the U.S. are hurting financially.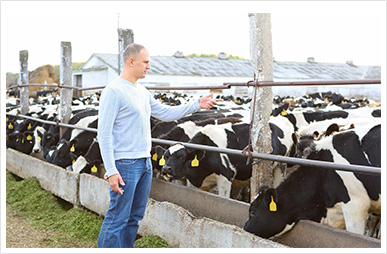 There's an oversupply of milk, fewer people are drinking milk, fewer places process milk and there are far more options to choose from, like so called "nut milks." This combination results in historically low milk prices, all while many farmers' costs of production have steadily risen.
It's time for us to seriously search for solutions on a state level. My resolution would direct the Budget and Finance Committee to conduct a study and issue a report making recommendations for initiatives to assist dairy producers in the Commonwealth in response to the decreasing demand for dairy products and decreasing milk prices.
Among the issues to be examined:
Identifying the measures proposed or undertaken by the Pennsylvania Milk Marketing Board and the Pennsylvania Department of Agriculture to assist dairy producers.


Examining the statutes, best practices and proposed measures that other states are using to provide assistance to their dairy producers.


Identifying current factors that contribute to the decrease in dairy product consumption and milk prices.


Identifying the number and types of specialty dairy products, such as lactose free milk, that are sold in the Commonwealth by out of state dairy producers and examine how milk produced in the Commonwealth can be utilized to meet the increased demand for this specialty dairy products market.
It's not a quick fix, but before we continue to invest in new processing plants or make other large investments we need the facts to make the right decisions.
The resolution passed the Senate Agriculture and Rural Affairs Committee and will soon be considered by the full Senate.

Spotted Lanternfly at the Reading Fightin Phils
The Reading Fightin Phils are hosting an Agricultural Appreciation Night on Tuesday, June 26. The game is dedicated to stopping the Spotted Lanternfly. My office has worked in conjunction with the Fightin Phils and will have informational materials at the game. The Spotted Lanternfly is a serious problem and is having a huge impact on our communities and on our farmers. Everybody needs to be engaged on this issue. I hope you can come out on June 26 to learn more. For tickets, visit fightins.com/tickets or call 610-375-8469.

Budget week
We're heading into two of the most important weeks of budget season, and the negotiations are well underway. I don't anticipate significant problems or changes as we head toward the finish line of June 30. In fact, it looks possible that we will have a budget on time this year, which is exactly as it should be. I've always felt that passing a reasonable budget on time is my most important role as a senator.


Being Social

It's a privilege to be your state senator, so it is important to me to be in touch with you.
I really like face-to-face meetings but understand that in this busy world, sometimes that isn't possible. Feel free to call my office to ask questions or make suggestions. Also, you may connect with me through my pages on Facebook and Twitter. Please follow me for regular updates and comments about what's happening in the district and in Harrisburg.