Financial Freedom for Working Families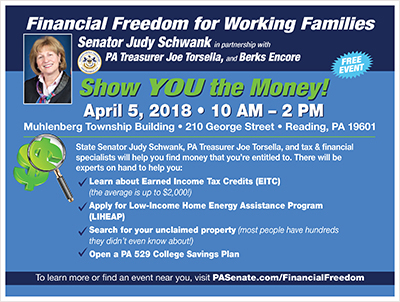 I've invited Pennsylvania Treasurer Joe Torsella to Reading for an event to help working families find money they are entitled to this tax season. The event, Financial Freedom for Working Families, is part of a statewide tour in conjunction with Treasurer Torsella and other democratic senators. The event is on April 5 from 10 a.m. to 2 p.m. in the Muhlenberg Township Building, 210 George Street.
The event is free and open to the public. You'll find tax and financial specialists to help you navigate Earned Income Tax Credits, Low-Income Home Energy Assistance, searching for unclaimed property or opening a PA 529 College Savings Plan.
Visit http://www.pasenate.com/financialfreedom/ to learn more about the event, and what items you need to bring.

Redistricting Hearing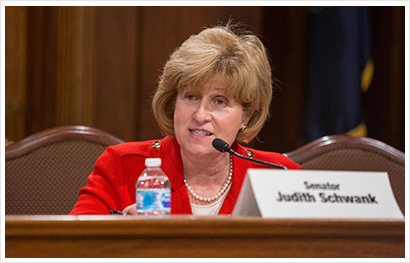 On Tuesday, the Senate State Government Committee held a hearing on redistricting. We discussed legislation that would change the way state and congressional seats are redistricted after the 2020 census.
There are four Senate bills that have been introduced regarding redistricting: SB 22, SB 243, SB 464, SB 767. Each of these bills would rely on the use of a commission to oversee congressional redistricting.
We're trying to remove the role of the legislature in drawing the districts and put the primary responsibility for this on this commission, which would act independently of the legislature to ensure fairer reapportionment and more competitive districts.
I'll be monitoring this issue closely. This meeting was a major step forward. It's the first time under the current constitution that legislation regarding redrawing congressional districts has been given any kind of legislative consideration.
If you are interested in more information on a specific bill, search for the bill here: http://www.legis.state.pa.us.

Women in Leadership Roles
A few months ago, the Executive Women's Council of Greater Pittsburgh came to me with an idea for a resolution. They felt businesses and corporations in Pennsylvania sorely lack female representation on their boards and in senior management. I agreed, and that's the meaning behind SR 255: "Encouraging equitable and diverse gender representation on the boards and in senior management of companies in Pennsylvania." The resolution currently stands in the Senate Rules and Executive Nominations Committee, and urges privately held and publicly traded businesses and nonprofits doing business in the Commonwealth to have a minimum of 30 percent women directors by December 31, 2020. Yesterday I held a press conference to bring attention to this resolution, and to recognize the women who worked hard to get it together. You can watch video from the press conference here.


Being Social

It's a privilege to be your state senator, so it is important to me to be in touch with you.
I really like face-to-face meetings but understand that in this busy world, sometimes that isn't possible. Feel free to call my office to ask questions or make suggestions. Also, you may connect with me through my pages on Facebook and Twitter. Please follow me for regular updates and comments about what's happening in the district and in Harrisburg.