Harrisburg Update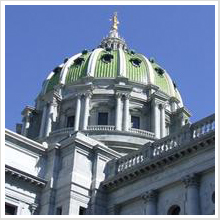 With just one session day left on the schedule, I thought I would take some time to update you on recent legislation. 
SB 172 is a bill I introduced with Sen. David G. Argall to protect construction workers and improve driver safety in active work zones. The bill was approved in both the House and Senate, and was signed by Governor Wolf on October 19. It will provide a three-year trial period for PennDOT to place speed cameras in active work zones on limited access highways. Work zones across Pennsylvania have been the site of numerous crashes, including 23 deaths in 2015, which is why this legislation is so needed. I truly believe this law will help keep motorists and road workers safe. I'm anxious to see what its effects will be once the cameras are put in place.

Another bill reaching Gov. Wolf's desk is SB 1127, which I introduced in March with Sen. Ryan Aument. The bill will increase penalties against merchants or vendors who exploit the Supplemental Nutrition Assistance Program (SNAP) by trafficking SNAP cards. We've talked and talked about welfare fraud, and this a chance for us to do something about it. The bill will make SNAP Trafficking a second-degree felony and will distinguish a merchant trafficker from a recipient. It will give police departments around the commonwealth, and the Pennsylvania Office of Inspector General, a meaningful way to combat SNAP trafficking. It's going to ensure that benefits are going to those who need them the most.

SB 919 is another success story. This bill will help victims of domestic violence who live in public housing to relocate. I sponsored this bill with Sen. Art Haywood and Sen. Camera Bartolotta. Leaving an abusive relationship can be incredibly difficult for victims of domestic or sexual violence. Having to leave your home – the one place where you're supposed to feel secure – to be safe adds more stress to an already difficult situation. On top of that, finding quality, affordable housing is even harder. This legislation will help ease that burden of finding new, affordable housing for victims who live in public housing.

HB 2489 would have allowed Topton to make some much needed repairs to the banks of Toad Creek. This was a bill that I originally introduced but it fell prey to Harrisburg politics. So, Rep. Ryan Mackenzie introduced the same legislation in the House, where it now sits in the House Rules Committee. You can read more about the bill here: https://www.readingeagle.com/news/article/topton-land-swap-plan-stalls-in-house

A WOW Morning

Last Friday I had the great opportunity to greet Muhlenberg Elementary Center students as they walked into school. We were invited by Principal Krista Venza. She and her staff at the MEC have made it their mission to make students feel welcomed. Mike Toledo, the executive director of the Daniel Torres Hispanic Center, joined me and we spent an hour high-fiving students and wishing them a good day – all while wearing Word of the Week (WOW) capes.  

Being Social

It's a privilege to be your state senator, so it is important to me to be in touch with you.
I really like face-to-face meetings but understand that in this busy world, sometimes that isn't possible. Feel free to call my office to ask questions or make suggestions. Also, you may connect with me through my pages on Facebook and Twitter. Please follow me for regular updates and comments about what's happening in the district and in Harrisburg.