Hello Friends,
There is a lot happening in Harrisburg these days. Budget negotiations are ongoing and I am actively working with my colleagues in the Senate to finally enact a responsible budget. Stay tuned – we'll send you updates as news breaks on the budget. I promise to keep you informed.

Back to School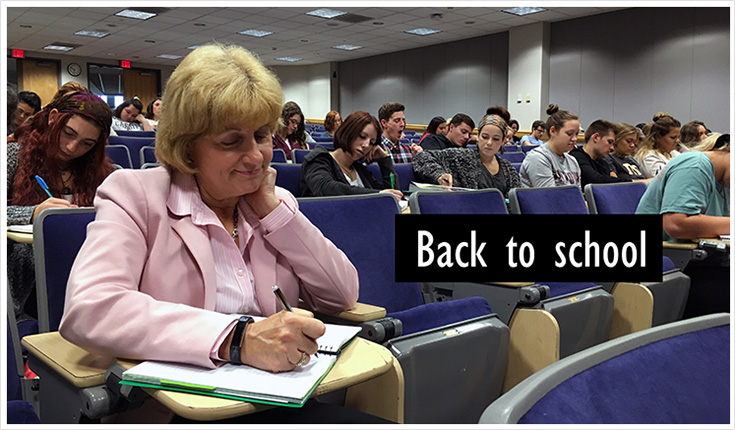 The association of Pennsylvania State College and University Faculties invited me to participate in Kutztown University's Legislator Day. I had a chance to sit in on an Introduction to Botany class, and then meet with faculty and student leaders. I was very impressed by the student leaders.

It's on Us
I'm sponsoring legislation, SB 875, that would establish amnesty policies to protect students who report sexual assault to their colleges and universities from being disciplined for other policy violations. My bill is one of six that are part of the Commonwealth's "It's On Us PA" campaign. My bill does not condone underage drinking or drug use, but no student or witness should be afraid to report a sexual assault because they are afraid of getting into trouble themselves.

Spotted Lanternfly
More and more people are starting to notice spotted lanternflies in Berks County. Penn State Extension and the Pennsylvania Department of Agriculture are sharing information about what to do to keep spotted lanternfly at bay in a new flyer. I've included its contents here:

How to Eliminate or Control Spotted Lanternfly Adults:
If you find Spotted Lanternflies in a municipality where they are known to exist, you should try to kill them.

The most effective way to eliminate these insects is to disrupt their favorite food and hang‐out. In late
summer and fall, Spotted Lanternflies prefer feeding on Ailanthus altissima, commonly known as the
"Tree of Heaven." They can be found feeding on other plants and trees, but Ailanthus altissima is their
favorite host. Here's an excellent resource to help you identify the tree: goo.gl/cNPQkS
If you have Ailanthus on your property: please consider reducing the number of Ailanthus trees, then treat remaining "trap trees" with insecticides. This is a longer‐lasting solution than simply spraying insects you see.
More detail about this process can be found at the following websites:
goo.gl/4GXNVM
goo.gl/f2oyv2
If you want to kill Spotted Lanternflies without controlling Ailanthus: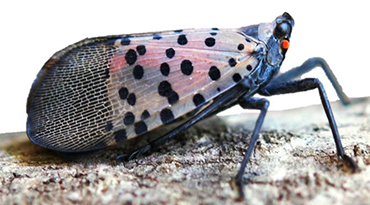 When there are only a few insects, you can kill spotted lanternflies by swatting or crushing them. For large populations, two kinds of insecticides are widely available that will kill Spotted Lanternfly adults.
Contact insecticides kill spotted lanternflies when the chemical contacts the insect directly. Systemic insecticides are absorbed by the tree and kill insects feeding on it. ALL insecticides must be used as directed on the label. Take the time to read the label carefully and follow the directions. This increases your safety, the safety of the environment, and the effectiveness of the insecticide.
Pennsylvania law requires that pesticide labels list the site where a pesticide (such as an insecticide) may be used. In Pennsylvania, insecticide labels do not have to specifically list the targeted insect. There are insecticides labeled for use on ornamental trees and around buildings. These products are legal to use on the sites listed in order to control Spotted Lanternflies in Pennsylvania.
Penn State Extension is currently testing to determine which insecticides are most effective in controlling adult spotted lanternflies. Preliminary results show insecticides with the active ingredients dinotefuran, imidacloprid, carbaryl, and bifenthrin are effective at controlling the spotted lanternfly. Neem oil and insecticidal soap provided some control, but results varied, and insects sometimes took several days to die.
Examples listed below are some of the available insecticide products containing the most effective ingredients
studied (dinotefuran, imidacloprid, carbaryl, and bifenthrin).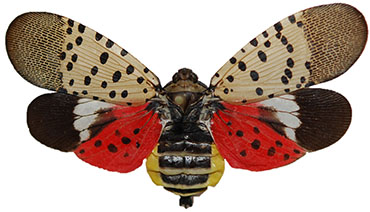 EXAMPLES OF PRODUCTS CONTAINING INSECTICIDES LABELED FOR USE IN LANDSCAPES AND GARDENS:
Contact insecticides (bifenthrin, carbaryl) ‐ apply when adult insects are present:
AVALON INSECTICIDE
BIFEN 7.9F SELECT
FERTI‐LOME BROAD SPECTRUM INSECTICIDE
FLEE READY‐TO‐USE YARD SPRAY
HOME MD MAXIMUM DEFENSE YARD CONCENTRATE
LESCO CROSSCHECK PLUS MULTI INSECTICIDE
MAXXTHOR SG
ORTHO MAX PRO
SEVIN
TALSTAR SELECT INSECTICIDE
UP‐STAR GOLD INSECTICIDE
Systemic insecticides (imidacloprid, dinotefuran) – most effective when applied in spring and summer,
before adults build up:
BAYER ADVANCED 12 MONTH TREE & SHRUB INSECT CONTROL
BONIDE ANNUAL TREE AND SHRUB INSECT CONTROL WITH SYSTEMAXX
COMPARE‐N‐SAVE SYSTEMIC TREE & SHRUB INSECT DRENCH
GREEN LIGHT TREE & SHRUB INSECT CONTROL WITH SAFARI
MONTEREY ONCE A YEAR INSECT CONTROL II
ORTHO BUG B GON YEAR‐LONG TREE & SHRUB INSECT CONTROL CONCENTRATE
SPECTRACIDE TREE & SHRUB INSECT CONTROL
TRANSTECT 70 WSP INSECTICIDE
VENOM INSECTICIDE
ZYLAM LIQUID SYSTEMIC INSECTICIDE
EXAMPLES OF PRODUCTS CONTAINING INSECTICIDES FOR USE ON VEGETABLES, FRUIT, BERRIES AND GRAPES:
WHEN USING INSECTICIDES ON EDIBLE CROPS: It is especially important to follow directions for chemical
application and timing from harvest as stated on the label.
AGWAY COMPLETE FRUIT TREE SPRAY
BONIDE COMPLETE FRUIT TREE SPRAY LIQUID
BONIDE EIGHT INSECT CONTROL FLOWER &VEGETABLE ABOVE AND BELOW SOIL INSECT GRANULES
HI‐YIELD VEGETABLE & ORNAMENTAL INSECT CONTROL GRANULES
SEVIN
VEGETABLE GARDEN SOIL INSECTICIDE
The products listed above are registered for use in specific settings. Read the pesticide label and follow the directions, including application rates, methods, and appropriate protective clothing and equipment.
THE LIST IS PROVIDED BASED ON CURRENT PRODUCT REGISTRATIONS. THIS IS NOT AN ENDORSEMENT OF ANY
PRODUCT OR PESTICIDE PRODUCER. THIS IS NOT A COMPLETE LIST OF POSSIBLE LABELED PRODUCTS OR BRANDS.
THESE INSECTICIDES HAVE NOT ALL BEEN TESTED AGAINST SPOTTED LANTERNFLY SPECIFICALLY, AND ADDITIONAL EXPERIMENTS ARE NEEDED TO DETERMINE THEIR EFFICACY.


Being Social

It's a privilege to be your state senator, so it is important to me to be in touch with you.
I really like face-to-face meetings but understand that in this busy world, sometimes that isn't possible. Feel free to call my office to ask questions or make suggestions. Also, you may connect with me through my pages on Facebook and Twitter. Please follow me for regular updates and comments about what's happening in the district and in Harrisburg.