Hello Friends,
There is a lot happening in Harrisburg these days. Budget negotiations are ongoing and I am actively working with my colleagues in the Senate to finally enact a responsible budget.
Homestead Exclusion Amendment
In the meantime, a proposal is in the works to amend the Pennsylvania Constitution to enable local taxing jurisdictions to double their homestead exclusion from 50 to 100 percent of the assessed value of one's property. Right now, taxing jurisdictions (counties, municipalities, school districts) can authorize a tax exemption of up to 50 percent of a property's medium assessed value.
For the Homestead Exclusion Amendment to happen, a bill must win approval by the Pennsylvania House and Senate in two consecutive sessions and be approved by voters via referendum.
The amendment bill, House Bill 147, passed last session and has gotten second approval in this session in the form of House Bill 1285, which contains the same language, so it will now go to a voter referendum. This means you'll see a question about it on ballots this fall.
I should note that the Homestead Exclusion Amendment is a separate matter from legislation I have worked on to eliminate school property taxes. The exclusion amendment provides local taxing bodies the option to choose an increased exclusion for taxation which they would have to find from other sources.
I feel addressing the billions of dollars associated with school property taxes will require legislation, like Senate Bill 76, which is why I will continue to advocate for and support school property tax elimination.

Right to Try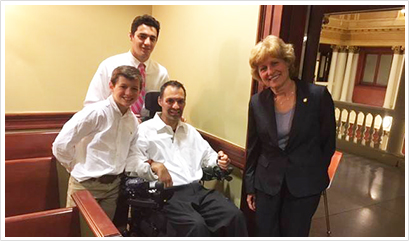 I recently met with Frank Mongiello when he visited a Senate Health & Human Services Committee meeting to lend his support to House Bill 45, the "Right-to-Try Act."
Right-to-Try would allow terminally ill patients to try experimental treatments that haven't received final approval from the FDA. Frank is a father of six and has ALS. I met him after the meeting and was touched by his story.
Frank is dying, but wants to help other terminal patients and that's why he is such a passionate advocate for Right-to-Try, which has been signed into law in 37 states. A terminal diagnosis deeply impacts patients, their families and their communities.
The bill has been tabled, but I hope to see it come off the table and come to a vote. I am in support of it.

Interns
This summer I have been fortunate to have five dedicated, hard-working young people interning in my office. I firmly believe that gaining hands-on, real-world experience is an integral part of a student's education. Therefore, I attempt to make internships in my offices challenging and interesting for students. They've helped my staff plan events, handle constituent concerns and research important issues.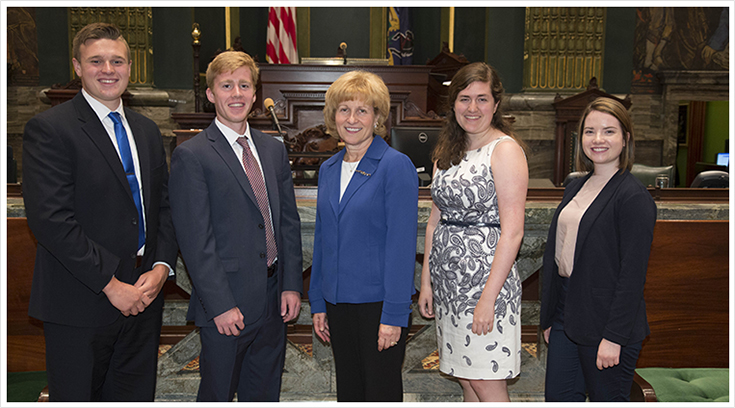 Summer Learning
I also recently attended a Teachers in the Parks rally to celebrate the more than $100,000 in educational grants to support summer learning program's initiatives. I truly believe in the power of this program, which instills confidence in students and ensures they do not lose what they've learned in the previous school year over the summer break, and helped TIPS secure a $10,000 grant.  For more information about the program, visit www.teachersintheparks.com.

Spotted Lanternfly
In June, the Pennsylvania Department of Agriculture added nine new municipalities in Berks, Bucks and Montgomery counties to the list of municipalities under quarantine because of spotted lanternflies. While that list has grown extensively since the pest was first discovered in 2014, I firmly believe joint efforts between PDA, Penn State Extension, local leaders and residents have kept spotted lanternflies from spreading to other states.
I recently spoke with representatives from PDA and Penn State Extension to provide you an update on the spotted lanternfly situation.
Sven-Erik Spichiger, Entomology Program Manager for PDA, said the U.S. Department of Agriculture gave Pennsylvania emergency funding and temporary employees to help in the spotted lanternfly eradication effort. The USDA crews recently joined PDA crews in survey and control activities.
They've changed their plan of attack, too. "Resources are being directed to the known leading edge of the infestation where the USDA and PDA will start working together to contain and eliminate small edge infestation while working toward the center," Spichiger said.
Properties in those areas are being issued treatment orders, and contractors have performed control work.
"Most businesses and citizens have been extremely cooperative and many have assisted efforts by scraping egg masses, banding trees, and in some cases performing voluntary tree removal," Spichiger said.
PDA is working with Commonwealth media to produce informational videos, which will be highlighted in a social media campaign in August. PDA will also provide spotted lanternfly cross-training to other state agencies on August 1, and to counterparts from other states and representatives of affected industries on August 2. Researchers continue to work on developing monitoring tools, perfecting control measures, and testing control efficacy and impact, he said.
Some of those projects involve determining how far spotted lanternflies can move of their own accord, what natural predators they have, when they lay eggs and what types of insecticides are most effective, said Penn State Extension Horticulture Educator Emelie Swackhamer.
Swackhamer and a colleague will begin work on the insecticide research soon. Most spotted lanternflies are young and don't quite have wings, she said. But soon we'll see adult spotted lanternfly on our trees, which is the focus of her study.
"We're going to be testing formulations of insecticides that home gardeners can purchase at garden centers," she said. "We're going to be targeting the adult life stage. Once (spotted lanternfly) settle on trunks of trees, people really notice them and need to know what to spray."
For now, Swackhamer recommends using a neem-based product. Neem is a type of tree that naturally has insecticidal properties. She hopes to have more recommendations for homeowners after the research is done.
Extension Educator Emelie Swackhamer addresses four common Spotted Lanternfly concerns.
Will the Spotted Lanternfly kill all the trees in forest/on my property? Not likely, Swackhamer said. "They're definitely causing stress on trees, but we're really not sure what the long-term effects of that stress will be," she said. "I don't think any researcher thinks it will kill all the trees in the forest. I get calls from people who are just terrified. I say, 'Take a deep breath, (spotted lanternfly) are probably not going to kill all trees.'"
If I live in the quarantine area and find Spotted Lanternfly on my property, will I get in trouble if I take no action? No, Swackhamer said. The quarantine order does not compel homeowners to take efforts to kill lanternfly but is meant to limit the pest's movement. Simply checking your car for hitchhiking lanternfly is enough to satisfy the quarantine. "We're hoping that they choose to act," she said. "They are not required to act."
Is it true the Spotted Lanternfly is a super bug and impervious to insecticides? No, Swackhamer said. Neem-based insecticides will kill them.
Since Neem-based insecticides are biorational (relatively non-toxic to people), does this mean I don't have to be careful while handling it? Again, no, Swackhamer said. "You must still use it according to the label, and with caution," she said. "Don't expose yourself to any insecticide." 

Being Social

It's a privilege to be your state senator, so it is important to me to be in touch with you.
I really like face-to-face meetings but understand that in this busy world, sometimes that isn't possible. Feel free to call my office to ask questions or make suggestions. Also, you may connect with me through my pages on Facebook and Twitter. Please follow me for regular updates and comments about what's happening in the district and in Harrisburg.