Hello!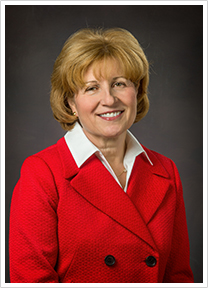 I hope you've had the chance to relax and enjoy the summer months. There have been many days with temperatures in excess of 90 degrees. Often, people don't realize that heat is one of the leading weather-killers in the United States, so even though the summer is winding down you still need to be cautious. 
Like every year some vegetables in my garden fared very well, while others did not.  That's one of the reasons I make it a point to stop and shop local at the many farmers markets we are so fortunate to have in Berks County. My summer was also spent attending various events focused on agriculture and environmental issues throughout the district and participating in a Senate and House Agriculture & Rural Affairs Committee hearing focusing on farm profitability for our dairy farmers. Dairy is the largest sector of the agriculture economy in Berks County
With Labor Day now behind us though, I have to admit I'm really looking forward to Fall and all that it brings. From the local fairs and festivals, to new sports seasons and of course, the kids returning to school for a new year of learning – there are so many exciting things happening! 
The Legislature will return to session later this month as well. The 2015-16 session is winding down, but there is still time to enact some meaningful changes on issues affecting people not only in Berks County but all across the state.
As always, we'll keep you updated on what's happening in Harrisburg through my Facebook and Twitter pages, so please if you haven't followed these pages yet, consider doing so today. They're a great way to connect with me while we're in session and to have your voice heard.  
Sen. Judy Schwank

Have You Visited the Farmer's Market Recently?
What better way to spend a day than visiting one of our many local Farmer's Markets.  We recently celebrated National Farmer's Market Week and spent some time during the celebration at the Penn Street Market in Reading. 
Farmer's Markets provide an opportunity for you to find fresh produce, meats, fish, bread and more for your family, while supporting the families and businesses working right here in our communities.  If you haven't taken the time to head to your local Farmer's Market lately, I strongly encourage you to do so.  Between the all of the wonderful smells and the tasty treats, you won't regret it!

Appeeling Fruit Recognition
I was so pleased to join Secretary of Agriculture Redding to recognize another local business helping to keep agriculture as one of the cornerstones of Pennsylvania.  Appeeling Fruit in Dauberville has been raising the bar in the fruit industry since 1991.  I was proud to recognize President/CEO Steve Cygan for 25 wonderful and tasty years of service to the community and to thank them for providing all of our families with such a wonderful and healthy product!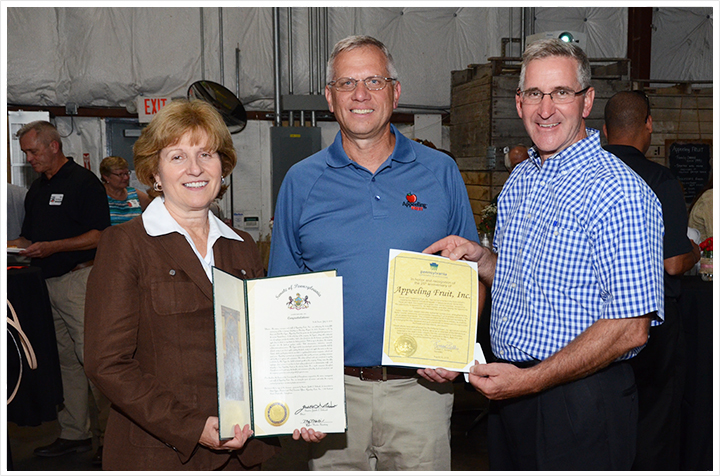 Farmland Preservation Milestone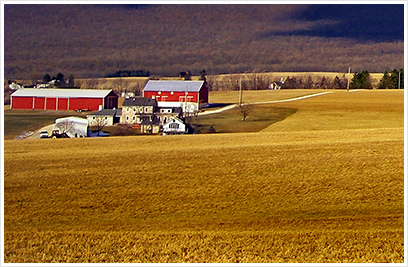 Berks County is home to thousands of acres' of farmland and as residents, we're proud of the history and heritage of these local farms.  Preserving this farm land for generations to come is of the utmost importance.  But did you know that Berks County has preserved more acres of farmland than any other county in the state – 713 farms and more than 70,354 acres.
Recently the State Agricultural Land Preservation Board announced that Pennsylvania had hit a milestone for the number of farms preserved statewide – by preserving the 5,000th farm.  While that's exciting news, I was pleased to congratulate local farmers from Berks County for helping to move us to that historic mark. 
Wagner Farms Partnership in Oley Township and Leon S & Alta M. Zimmerman in Longswamp & Maxatawny Township all joined the ranks of farms preserved through the efforts of the State Agricultural Land Board.
The addition of these farms to the farm preservation roster will ensure that Berks County farms remain a leader in producing nutritious food for generations to come!  Statewide the Commonwealth has preserved 5,003 farms totaling 525,020 acres.

Update on Vehicle Registration Stickers
Don't forget that as of December 31, 2016, PennDOT will no longer issue vehicle registration stickers.  While Act 89, passed in Nov. 2013 eliminated the need for the registration sticker on your license plate, you still MUST have your vehicle registered and maintain a current registration card during annual safety inspections and to law enforcement when asked.

Being Social

It's a privilege to be your state senator, so it is important to me to be in touch with you.
I really like face-to-face meetings but understand that in this busy world, sometimes that isn't possible. Feel free to call my office to ask questions or make suggestions. Also, you may connect with me through my pages on Facebook and Twitter. Please follow me for regular updates and comments about what's happening in the district and in Harrisburg.