Hello!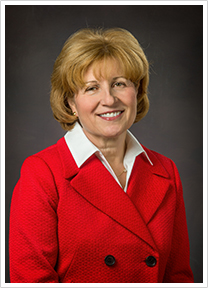 June is finally here and with it the warmer weather! Hopefully it's a sign of great things ahead and everyone is able to enjoy a safe and happy summer season with family and friends.  Please remember though, that with kids out of school we need to be more careful than ever as we drive through neighborhoods and around town.  Watch out for kids at play! 
This is also a great time to remind everyone that as we watch the temperatures rise, it's important to keep an eye on your neighbors and friends, especially the elderly and those with pets.  Heat related injuries can happen quickly so take time to check in on your friends and people in your community. 
Here in Harrisburg, June also signals the end of our fiscal year in the commonwealth.  We're working on finalizing a budget for 2016-17.  I hope to have more information for you over the course of the next few weeks. 
I was so pleased to join you and your families all across the district in the past month at so many fun and educational events.  Nothing gives me greater joy than standing alongside neighbors and friends as we honor our kids' achievements at award ceremonies and the accomplishments of our residents in all of the wonderful service organizations around Berks County.  Thank you for allowing me to be part of so many of your events around town.
As always, please don't hesitate to contact me if there is every anything I can do to help you or your family. 
Enjoy your summer!
Sen. Judy Schwank

Property Tax/Rent Rebate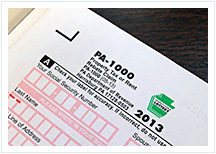 The deadline to file for the Pennsylvania Department of Revenue 2015 Property Tax/Rent Rebate program is June 30. If you filed a paper rebate last year, you should have received a 2015 application by now. If you have not received an application, or did not apply last year and wish to apply this year, applications are available at www.revenue.pa.gov or at my district offices, and my staff would be happy to assist you in preparing your application.
The Property Tax/Rent Rebate program benefits eligible Pennsylvanians age 65 and over; widows and widowers age 50 and over; and people with disabilities age 18 and over. Homeowners with a maximum yearly income of $35,000 and renters with a maximum yearly income of $15,000 are eligible for a rebate. Keep in mind half of Social Security income is excluded. Some applicants who previously received rebates may continue to qualify despite Social Security cost-of-living adjustments that may have pushed their income past eligibility limits.

Farmers Market Nutrition Program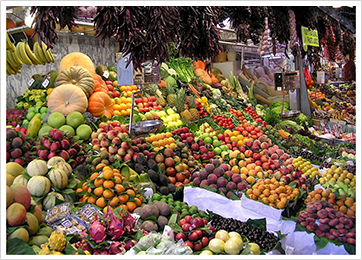 The Pa Department of Agriculture and the Berks County Area Agency on Aging (AAA) are once again offering the Senior Farmers Market Nutrition Program. This program benefits eligible older adults by providing a set of four checks for a total of $20 to purchase locally grown fresh fruits and vegetables.
The program is open now to eligible seniors!  Checks will be available at the Berks Area Agency on Aging, Berks Encore and county Senior Centers.  The checks can be spent through November 30 on produce grown in Pennsylvania at participating Farmers' Markets. Those who are eligible but unable to get to a senior center may designate a proxy to pick up and redeem the checks. There is a limit of two proxy forms per person.
To be eligible for the checks you must: be a Berks County resident; be age 60 or older before December 31, 2016; not live in a residential facility providing meals; and meet income requirements ($21,978 annual gross income for a one-person household and $29,637 for a two-person household).
To access distribution sites, proxy forms, locations of farmers markets and other information about the Farmers Market Nutrition Program, please call the Berks Area Agency on Aging at 610-478-6500.

ZIKA VIRUS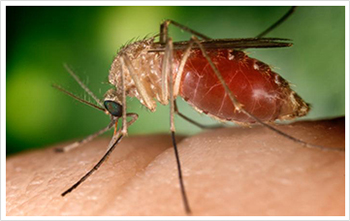 It's hard to watch the news lately and not see a story about the Zika virus.  I believe education and prevention are key and recently held a policy discussion with area experts to discuss Zika virus and how we can protect ourselves. 
I am grateful for all of the local and state health officials who joined us for the discussion, along with my Senate Democratic colleagues.  While I am very thankful that we have not seen a large outbreak of the virus here in Berks County, we still need to ensure that we are educated and prepared should it become more of a widespread problem. 
As always, please reach out to my office should you have questions or concerns about the Zika virus.  My staff and I would be more than happy to connect you with the experts who joined us for the discussion.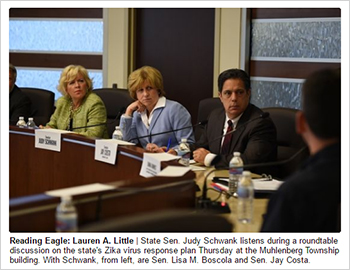 Zika Outbreak in Pennsylvania Unlikely, Health Officials and Researchers Say
By Liam Migdail-Smith | June 10, 2016
MUHLENBERG TOWNSHIP, PA As public health officials and disease researchers see it, the odds of Pennsylvania facing a major outbreak of the Zika virus are slim at best.
That was made clear Thursday during a Muhlenberg Township meeting of Senate Democrats' policy-research panel. Sen. John N. Wozniak asked Jason Rasgon, a Penn State researcher who studies the spread of disease through insects, to assess on a 1-to-10 scale the degree to which Pennsylvanians should be worried about mosquitoes spreading the virus locally.
Zika Virus & Frequently Asked Questions
Zika virus is a generally mild illness that is spread primarily through the bite of an infected mosquito. The current Zika virus outbreak began in May 2015 in Brazil, leading to reports of a neurological disease called Guillain-Barré syndrome and pregnant women giving birth to babies with birth defects such as microcephaly. The outbreak has spread to numerous countries and areas, prompting the Centers for Disease Control and Prevention (CDC) to issue travel notices to regions where the Zika virus transmission is ongoing. In response to the emerging disease, Pennsylvania has created a Zika Response Plan.

Preparing for Severe Weather Events
The hot summer months can many times bring with them severe and dangerous storms.  Many times these storms happen quickly and without warning. 
In an effort to help you prepare, the Pennsylvania Insurance Department is providing tips and advice to all Pennsylvania residents.
First and foremost, please take time to review your insurance policies so you know in advance what may or may not be covered.  In addition, keep an inventory of items, especially valuables so that you're prepared in  the event you need to file a claim.  If you can, take photographs of important items and keep details including the brand name, price, date the item was purchased along with any serial numbers or other identifying information.
Finally, remember that flood damage is not typically covered by a traditional homeowners insurance policy.  Flood insurance is available through the National Flood Insurance Program, administered through the  Federal Emergency Management Agency or a private broker.  You can find more information about flood insurance through our Pa Insurance Department's website.
For more information and other helpful tips and information on preparing for severe weather, visit http://www.insurance.pa.gov/Pages/Severe-Weather-Consumer-Alert.aspx

Honoring Our Veterans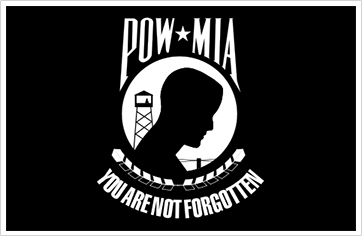 I'm proud to report that my legislation, requiring the POW-MIA flag to be flown on state grounds is one step closer to becoming law after a recent unanimous vote by the Senate State Government Committee.
I am so thankful that my Senate colleagues recognized the importance of this issue and worked quickly to move this bill through committee and to the full Senate for consideration. This legislation will allow us to show support for our service men and women and their families, while honoring their service and sacrifice.
I look forward to this bill becoming law and being able to honor our POW/MIA's in yet another way.  Their service and sacrifice can never and should never be forgotten.
Click here to learn more.

Being Social

It's a privilege to be your state senator, so it is important to me to be in touch with you.
I really like face-to-face meetings but understand that in this busy world, sometimes that isn't possible. Feel free to call my office to ask questions or make suggestions. Also, you may connect with me through my pages on Facebook and Twitter. Please follow me for regular updates and comments about what's happening in the district and in Harrisburg.